About us
Strategy-led
design
in every detail
Ar. Vibha Chauhan is an aspiring architect and degree holder in Bachelor of Architecture, graduated from Sardar Vallabhbhai Patel Institute of Technology (S.V.I.T), Vasad - Vadodara, Gujarat in 2014. Comprising of B.Arch Degree, she has worked under renowed architects and award-winning firms in Vadodara.
Ar. Vibha Chauhan is the sole owner of HV ASSOCIATES, which laid its initial foots in 2017. Her multidisciplinary firm has spread its hands-on architecture, interior design, furniture design and product design. She firmly aims to design with in the criteria's and evolve with a creative approach. Her highly coloured imagination, helps to amalgamate client's requisite with distinctive designs. With her highly coloured imagination, she can serve her clients with functioning and aesthetically pleasing spaces. Her design philosophy is to consider each project unique in its programmatic requirement and to assign adequate attention to the process of design to arrive at an aesthetically congruent and logical conclusion. With a vast portfolio, she is clear about what she wants from her designs. It explains why the firm works in close collaboration with clients and communities to analyze vital aspects and expectations before embarking upon any project. Her strength lies in not only providing an appropriate design solution, but also in her collaborative approach to include the client, consultants and the contractors throughout the process.
Through the initial years of experience, her firm has been able to design and build some quality projects and are looking forward to greater quality work. Her work have also been recognized at digital platforms and published by international as well as national publications namely Architect's dairy, Archello, Home and Design Trends and Project Exterior Magazine. She was also honored and awarded for 'BEST STALL DESIGN' at the '6th ENGI EXPO' Feb-2020 held at Vadodara. The firm has learnt with experience and are always open to process towards perfection.
Read more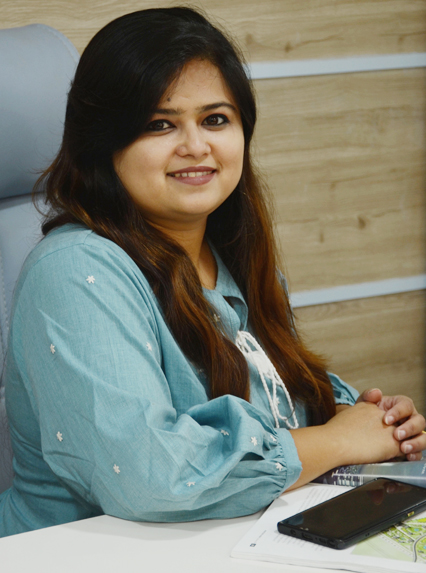 "If you will be coping someone, you will never be the best"
Ar.
Vibha Chauhan